About Us
The Story
DWA Golf was formed on January 1, 2012 with a founding vision unique to other golf course operators. The focus of DWA Golf is centered on forming strong partnerships with its customers, employees, and the local community. DWA Golf aims to provide a personable experience to each golfer and help grow the relationships of the local community, its charitable organizations, and businesses. The company also has founded its beliefs on investing in each DWA employee to help grow them and their families.
The concept of DWA Golf's vision and business model may sound simple, but as technology has made our world faster and more efficient, in reality it has separated all of us from the core beliefs that our founding fathers and family members used to form the foundation of our world today. In relation to golf, our consumers play the game as a means of recreation and to get away from the daily stresses of life.  A round of golf makes people feel good and leads to healthier lifestyles. It provides an opportunity for someone to enjoy the outdoors and time with others. Golf is a game that can be played by people of all ages and brings absolute strangers together forming relationships that last a lifetime. Each person's round of golf and experience should be viewed this way and treated as such in order for the game's future to be successful.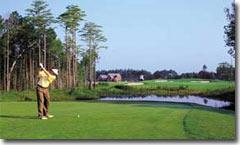 The Golf Club at South Hampton
With the vision established, DWA Golf purchased The Golf Club at South Hampton in March of 2012. The Golf Club at South Hampton was extremely attractive to DWA Golf as it fits the core principles of the company perfectly. The club is located in a community of over 700 homes and houses a healthy mix of demographics built to lead the Jacksonville and St. Augustine communities for many years to come.  The golf course was designed by former PGA Tour player, Mark McCumber, in 1999 as a player friendly design that still offers an excellent challenge to the more experienced golfer.  It offers six sets of tees for golfers of every ability with the "family" tee leading the way for the birth of new golfers. The now family owned and operated club has founded itself on a strong reputation of offering great golf course conditions and a friendly, personable staff.